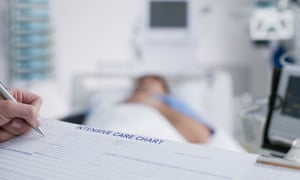 Where you live has a major impact on your chances of being admitted to hospital for preventable illnesses, a Grattan Institute report has found, with remote areas of Queensland and outer suburbs of Melbourne among the areas with the highest admission rates.
The report released on Monday – The Perils of Place: Identifying Hotspots of Health Inequalities – found 38 communities in Queensland and 25 in Victoria had rates 50% higher than the average for those states in every year for a decade.
It singled out Mount Isa and Palm Island in Queensland, and the Melbourne suburbs of Frankston and Broadmeadows, as having particularly poor outcomes.
"Our analysis shows that in both Queensland and Victoria extreme and persistent disparities exist among areas," it said. "This is unacceptable place-based inequality."
The report found that hotspots tended to be more remote, have populations of lower socioeconomic status and have a higher proportion of Indigenous people.
The institute's health program director and report author, Stephen Duckett, told Guardian Australia the reason communities appeared on the list "differed from place to place".
"For example, in Victoria, Colac and Mildura had high rates of admission for dental problems because those communities only got fluoridation [of tap water] in 2010," he said.
"It might be a public health question. In some cases it might be low access to primary care, or a community might have good access to care but the disease burden is bad."
Preventable illnesses measured included diabetes, dental conditions, skin infections and lung disease.
Duckett said that, surprisingly, most areas with low socioeconomic status had surprisingly low rates of admission.
"In some places, such as the Melbourne suburb of Broadmeadows, there was a high rate of preventable hospitalisations, but in other areas with low socioeconomic status, such as Sunshine, there was not."
Duckett suggested this might indicate that health services were better run in those areas, which should be studied to design improvements in other primary healthcare networks.
In both Queensland and Victoria, low socioeconomic status areas were two and a half times more likely to be persistent hotspots than all areas, on average, and about 10 times more likely than high SES areas.
The report proposed health inequalities be addressed by trying preventive interventions in high priority areas, monitoring results and then rolling out solutions and funding nationally.
Duckett accepted that trying out healthcare homes to manage chronic disease, as the federal government has proposed, could help, but said preventive solutions would vary between areas.
"Some areas had high rates of readmission of the same patients, so in those places we need to ask: why aren't hospitals dealing with the condition correctly the first time around?" he said.
"Sometimes it's not readmissions. Each admission is separate, and the problem might be inadequate primary care. Or that people don't know how to manage their diabetes and need more instruction on how to do so."
The report estimated that if preventable admissions in hotspots were reduced to average levels in the two states studied, direct savings would be at least $10m or $15m a year.
"Indirect savings should be significantly larger," it said. "Government and primary health networks must ensure that all communities get a fair go.
"Improving the health of people in these priority places will, in the long-run, improve wellbeing and opportunity, social cohesion and inclusion, workforce participation and productivity, and reduce health system costs."