The federal government has announced $15.3m in funding for the central Australian dialysis service, the Purple House, to expand treatment to remote Indigenous communities experiencing a crisis in renal health.
The money includes $9m indexed over three years for renal service delivery, and $6.3 immediately for infrastructure – providing renal dialysis units in a number of remote communities.
The Purple House is a largely self-funded dialysis clinic in Alice Springs for Indigenous patients from remote communities. It also provides dialysis services in some remote communities. It began 15 years ago with independent money raised by Aboriginal people, and was the first bush dialysis service in the country.
Indigenous people are more than four times more likely than non-Indigenous people to have stage-four or stage-five – advanced – kidney disease, and almost four times as likely to die from chronic kidney disease. End-stage kidney disease is 18 to 20 times higher for Indigenous people in remote and very remote areas.
Before Thursday's announcement the organisation received $1.7m from the Northern Territory government, but it was not indexed.
"There is absolutely no doubt that Purple House and [its chief executive] Sarah Brown do a fantastic job in the delivery of these services," said the assistant federal health minister, Fiona Nash. "It's an absolute credit to them – the difference they make in people's lives out in remote communities."
Brown said the Purple House team was "gobsmacked" and said the money would "keep the doors open" for the next three years and recognised the clinic's expansion.
"But it also means that communities where people have never got home on dialysis – they've come to town and they're stuck there until they die – are going to have some hope for the future," she said.
The news comes after Wednesday's announcement of a plan to spend $10m in federal funds on dialysis support services for remote-living Indigenous patients in the Northern Territory, albeit four years after the money was offered.
"Between the two announcements it's not being overly dramatic to say that this changes the face of renal disease in Australia. No longer will dialysis mean a one-way ticket to town and home for your own funeral," said Brown.
"People will have hope, they will have a reason to stay well, to get home, and families will be able to look after people. This is enormous for the whole of central Australia and for the people whose kidneys are failing now and who are trying to decide what they're going to do. So thank you.
"There are going to be a few parties in Alice Springs hostels tonight as people party and plan their trips home."
The new money would create about 16 dialysis chairs out bush in places where there is little or no service, and allow Purple House to act on plans it has had for years to expand into the east of the NT and into parts of South Australia.
Greens senator Rachel Siewert, whose has repeatedly pushed the issue of the $10m funding in Senate estimates, said it was "fantastic after all these years to finally see it being committed".
"If the community hadn't been hassling and if we hadn't been hassling that money would have disappeared – it nearly disappeared into consolidated revenue a couple of times," Siewert told Guardian Australia.
"It's really good and the extra money for Purple House is fantastic … The projects are good that it's going to so hopefully it will make a difference."
The government has to invest in preventive health as well as treatment: "We also need to make sure we're investing in the preventative side so we start dropping the numbers of people who will need this kind of support."
Nash, who was in Darwin for a conference on improving Indigenous health, said the two announcements were not just about treatment but also about prevention, pointing to $1.4bn in primary healthcare funding committed to by the government.
"It's double-handed," she said. "We've got to, of course, make sure we have funding available for things like the renal service delivery and infrastructure we've seen in the last two days.
"But it's also vitally important we focus on that primary prevention and making sure those services at the front line looking after these patients dealing with chronic disease are able to do so."
Jennifer Westacott, chief executive of the Business Council of Australia, which partners with Purple House, praised the increased funding.
"In a time of fiscal restraint for governments, this decision recognises that the right kind of investment ticks every box," Westacott said.
"The Purple House is a world's best practice model of health care, the kind we need to see more of in Australia."
Warren Snowdon, Labor's parliamentary secretary for Indigenous affairs, who was federal minister at the time the initial $10m funding offer was made, also welcomed the funds.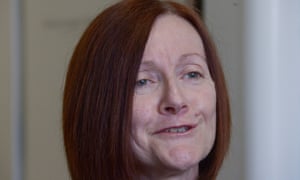 "It has been disappointing that up until now both Labor and CLP NT governments wouldn't take responsibility for expanding the delivery of dialysis and renal services, while the commonwealth was prepared to contributing infrastructure funding," he said.
"It is now pleasing that the commonwealth and territory are working together for central Australian Indigenous renal patients and their families."
Also on Thursday, Nash, the NT health minister, John Elferink, and Marion Scrymgour, the chair of the Aboriginal services alliance of NT (Amsant), announced a recommitment to a framework agreement aimed at improving the health and wellbeing of Indigenous people.
The renewed five-year agreement "promotes shared responsibility and the need for genuine ongoing partnerships between Aboriginal community-controlled health services and both levels of government," said Nash.
It commits all parties to share information and identify "key priorities for action" and was an "in principles agreement", not about specifics, Nash said.
Elferink said the agreement would also focus on health data collection, which already had demonstrated success in the NT.
The agreement was the start of a national approach with the expectation other states and territories would sign similar agreements this year.